Warm, Fuzzy Puppies
A gift of love, loyalty, and companionship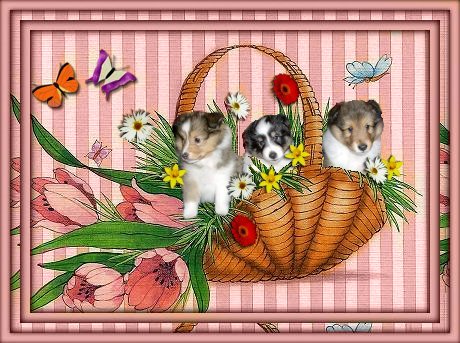 Pet puppies are sold to approved homes with limited registration and an agreement to spay or neuter the puppy when it is old enough.
We are happy to announce that our Lovey- Spark babies arrived May 23, 2006. We have 3 boys , all sable and white. Two boys appear to be tri factored and 1 boy appears to be pure for sable. These boys are getting prettier everyday. Their quality is becoming more apparent. They are showing a lot of promise of being show quality. Not only are they pretty, they are as sweet as they look.
They are now 8 1/2 weeks.
Am I cute or what? I am Davy. Mom says I am moderate and will be beautiful boy when I grow up.
I am 8 1/2" tall and weigh 4# 7oz.

I'm Sunny. Mom says that I have the most spunk of the family. I am pure for sable and will look like
a beautiful red sunset when I am grown. I am 8 1/2" and weigh 4# 14oz

I'm Rowdy. I'm the biggest in the family. I am 8 3/4" and weigh 5# 4oz. Mom thinks I will be more like my granddaddy Goodie in size when I am grown than my dad Spark.

Here's Dad and Mom!

UCh Goodtimes Too Hot To Handle

UCH Goodtimes Begin As A Luvsong

These little boys are doing great and growing well.

For pictures and infor mation on litters born early in 2006, visit our Winter 2006 Puppies

What does it take to build a sheltie? Take a look
Visit our Past Puppies page to see some of our beautiful babies