Warm, Fuzzy Puppies
A gift of love, loyalty, and companionship
April 30, 2004
Presenting Simone
MACH Goodtime Catch Me If You Can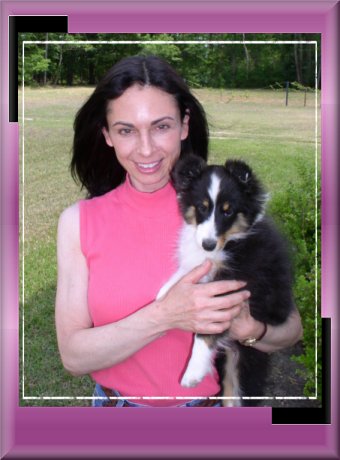 At 12 weeks with her new mom, Cristi.
Simone has gone out west to Las Vegas! Congratulations to her new owner Cristi Tombari. Hopefully, someday Simone will be an agility star and have alphabet soup after her name! These beautiful pictures were taken by Cristi of Simone in her new home. Thank you for these lovely pictures! Check back and watch Simone grow.
Update: Cristi writes 8/4/09 We have been more busy with agility this year and Simone is doing really well. She has her MX and MXJ now. She is also half way to her MACH. She has 10 2Q's and has over 700 points. Hopefully sometime next year she will get there.
Visit the bottom of the page to watch Simone's first herding lesson. Wow, what a girl!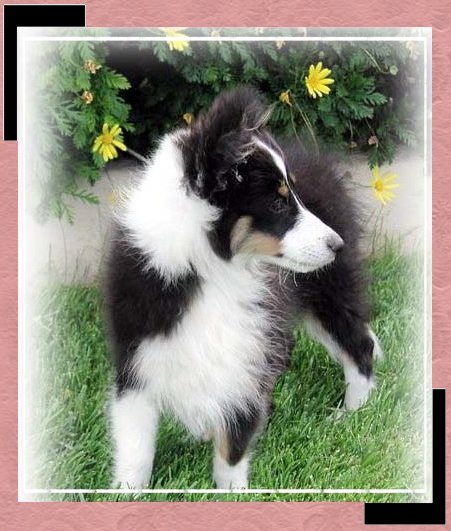 Simone at 14 weeks

16 weeks

20 weeks

23 1/2 weeks

6 months (12 3/4")

15 months

Below is a picture of Simone taken at her first agility trial which was a few weeks ago. She did very well. She qualified in all 4 runs and got 3 firsts and a second. We are so proud of this little girl. She also loves to herd.

This beautiful photo was taken by Ann Clayton.

Update 11/20/06

Simone completed her Open titles quickly