Warm, Fuzzy Puppies
A gift of love, loyalty, and companionship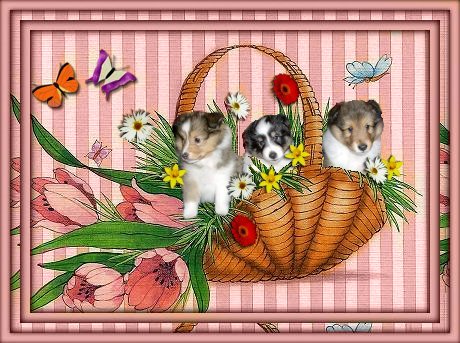 Pet puppies are sold to approved homes with limited registration and an agreement to spay or neuter the puppy when it is old enough.
We are happy to announce that our babies arrived right on time, January 23, 2006. We have 2 boys and 2 girls, all sable and white. One boy and 1 girl appear to be tri factored and 1 boy and 1 girl appear to be pure for sable.
Pictured below is AKC/UKC Ch Redfield's All That Razz, the proud papa and the proud mom, UKC Ch Marilee Let Goodtime Games Begin.
Our second litter was born February 3, 2006
We have 4 boys and 1 girl
Pictured below is UKC Ch Goodtimes Too Hot To Handle the proud papa and the new mom Goodtime Precious Moments.
Presenting our newest litter, and our first AOACs

Ch Waldenwood The Blue Laird ex UCh Goodtimes Beyon Wishes'N'Dreams (AKC pointed)

Born on February 17, we have 3 boys...1 blue and 2 tris. Our only girl, a tri did not survive.
Visit our Past Puppies page to see some of our beautiful babies