Warm, Fuzzy Puppies
A gift of love, loyalty, and companionship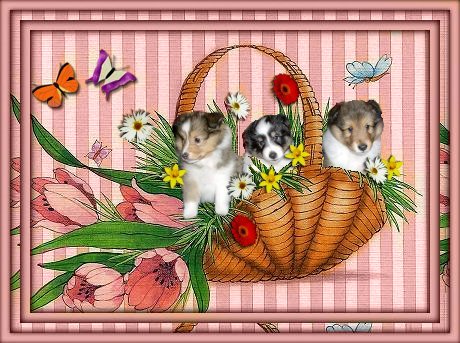 Pet puppies are sold to approved homes with limited registration and an agreement to spay or neuter the puppy when it is old enough.
We are so proud to announce our newest litter born February 05, 2013.
Dazzle and Phoenix have 2 sons and 4 daughters.
We have 1 bi blue girl, 1 blue merle girl, 2 tri girls and 2 blue merle boys
Here the pups are at 5 weeks.
Photos were taken 3/10/2013
All name are tentative and subject to change. I just love naming pups.
My name is "Ice", Goodtime Gore-geous Diamond Edge. I am the bi blue girl. I weigh 2# 3.6 oz.



I am "Kindra", Goodtime Love Is Kind. I am the blue merle girl. I weigh 3# 0.2 oz.

I am "Rain", Goodtime Rainy Day Blues. I am the first born blue merle boy. I weigh 2# 15.2 oz.

I am "Dee Dee", Goodtime Delicate Delight. I am the smaller tri girl. I weigh 1# 8.6 oz.

I am "Frost", Goodtime Silver Moonlit Frost. I am the second born blue merle male. I weigh 2# 6.8 oz.

I am "Danica", Goodtime Dance With The Daring. I am the larger tri girl. I weigh 2# 0.4 oz.

| | |
| --- | --- |
| Nat BISS Ch Kandisweet Crestar Phoenix | INT/UKC CH Goodtimes Beyon Expectation |
call (912) 863 5767 for information.
Visit our Past Puppies page to see some of our beautiful babies