Warm, Fuzzy Puppies
A gift of love, loyalty, and companionship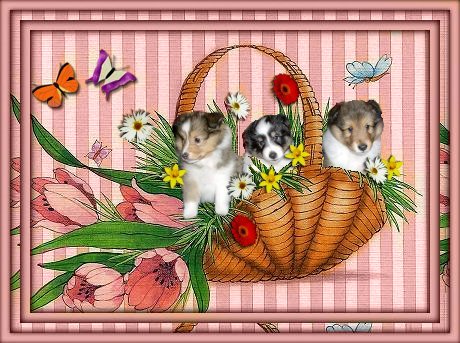 Pet puppies are sold to approved homes with limited registration and an agreement to spay or neuter the puppy when it is old enough.
When these puppies are 9 to 10 weeks old, they will be evaluated for quality. New homes will be chosen on which home will be the best fit for each puppy.
We are so proud to announce our litter born July 1, 2016.
Mandi and Bentley present their 5 new babies, 3 boys and 2 girls!
2 sable boys 1 sable merle 1 sable girl and 1 sable merle girl
Here we are at 3 weeks.
Watch the puppies grow.
Pups at 3 weeks

Sable Girl





Sable Merle Girl





Sable Merle Boy





Small Sable Boy





Big Sable Boy





Pups at play



Meet our parents

INT/Nat/Honors Ch AKC Bronze GCH Jesstar Seadream Azure, "Bentley"
UKC CH Goodtimes Chasing ElusiveDreams (AKC ptd) "Mandi"
Take a look What does it take to build a sheltie? Take a look
Read these articles below for pleasure and inspiration.
Puppy Size Your Choice Pets In Heaven
Visit our Past Puppies page to see some of our beautiful babies