Warm, Fuzzy Puppies

A gift of love, loyalty, and companionship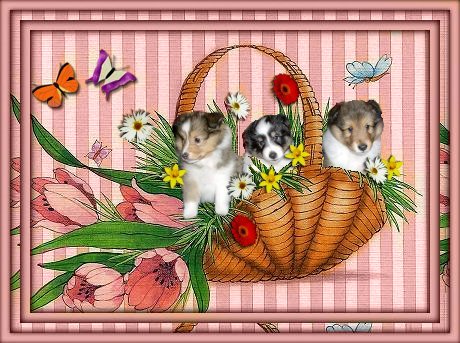 Pet puppies are sold to approved homes with limited registration and an agreement to spay or neuter the puppy when it is old enough.

6/20/2008

Presenting the Spark/Lovey pups at 6 1/2 weeks old.

They are just too cute.
First Born.... First Girl~ Goodtimes I Can Only Imagine, "Hope"

Second Born.... First Boy~ Goodtimes Believe It Or Not, "Ripley"

Third Born.... Second Boy ~ Goodtimes Definitely Maybe, "Chance"

Forth Born.... Second Girl ~ Goodtimes Believing In Miracles, "Faith"
2 girls and 2 boys

All of these pups are little charmers.

UCH Goodtimes Too Hot To Handle ex Goodtimes Begin As A Luvsong

"All creatures great and small, the Lord God created them all."

Every time I lose a dog he takes a piece of my heart. Every new dog gifts me with a piece of his.

Someday my heart will be total dog, and maybe then I will be just as generous, loving and forgiving. - Unknown