Warm, Fuzzy Puppies
A gift of love, loyalty, and companionship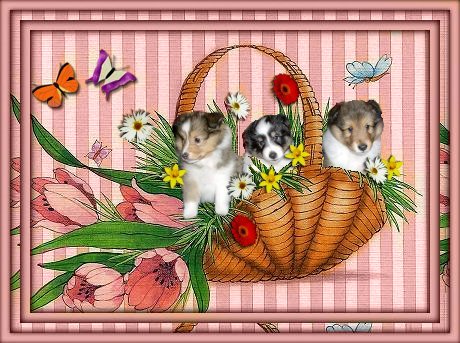 Pet puppies are sold to approved homes with limited registration and an agreement to spay or neuter the puppy when it is old enough.
January 2, 2007
Presenting the Belle/Spark pups at 6 weeks old.
The three little cuties

L-R Cooper, Aura Lea, & Bingo

Goodtimes Some Like It Hot "Cayenne"

Don't tell the others but I am mom's favorite. She says I am like my half brother Blaze who lives in Denmark.

Goodtime Sparks A Flying "Flash"

I am the second boy and oh so handsome! Mom thinks I might make a show dog someday like my parents.

Goodtime Love Burns Brightly "Flame"

I am the little princess. I am sweet and pretty. Mom says I may get to be a show dog like her and dad.

Goodtime Fun and Games "Bingo"

I am the 4th and last born boy, and the smallest, but what I lack in size, I make up for with feistiness! I'm thinking agility.

Goodtime love Me Tender "Aura lea"

I am the 2nd and last born girl. I am petite and sweet. I will make some lucky person a wonderful lap warmer.
2 girls and 4 boys
GRCH Goodtimes Too Hot To Handle ex UCh Marilee Let Goodtime Games Begin